Description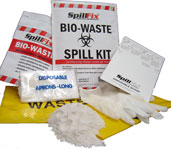 A simple and safe method to clean potentially infectious human and animal spills including blood, urine, vomit and faeces spills.
Used in medical centres, ambulances, schools, child/aged care, bars, pubs & clubs – in fact anywhere where there is the potential for human fluid spills.
Uses:
Medical Centres
Paramedics Kits
Transport, Aviation, Shipping, Rail
Ambulance and Emergency Services
Healthcare
Childcare, Aged Care and Schools
Public Amenities
Any Industrial Work Site
Benefits:
Immediate absorbs spills so they can be removed from the surface and contained
Reduces slip hazards by covering spills and surfaces are left clean and dry
Spillfix Bio Waste Kit provides disposable personal protection equipment (PPE) to reduce exposure risk and enable proper disposal.
Point of Difference:
Works Quickly
Cleans Hazardous Spills Safely
Highly Absorbent and Fast Acting
Avoids Cross Contamination
Contains suitable Personal Protection Equipment (PPE)
Directions:
Isolate spill area and then open Spill Kit and remove contents
Put on fluid retention mask/eyeshield, apron and gloves before attending to the spill
Tear open the Bio-Waste absorbent sachet and sprinkle over the spill ensuring all the liquid is covered generously
Remove scraper from the disposable scoop by bending at the perforations Form the scoop by bending the corners marked A and B together and pinching between fingers to hold
Scrape the absorbed spill into the scoop by pulling it towards the open scoop
Place absorbed spill and disposable scoop into one of the clinical waste disposal bags and seal by removing the tape and folding the flap over
Remove apron and mask and then place into the second clinical waste disposal bag along with the first disposal bag Finally remove gloves and place into disposal bag and seal closed Dispose in accordance with workplace procedure policies
Wipe any exposed skin with hygienic wipes
Contaminated clothing and spilled area should be properly cleaned immediately
**Envirosafe recommends using Extreme Green Laundry Powder for clothing and Extreme Green Sanitiser or Disinfectant for the spilled areas**
Shelf Life:
Indefinite when stored in a cool, dry, well ventilated location away from direct sunlight.
Packaging:
Envirosafe Rating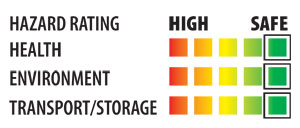 About Us:
Proudly 100% Australian Owned & Operated
Sustainably powered premises