Description
Extreme Green Mineral Deposit Remover is designed to remove scale and calcium build up. It is effective on all calcium deposits and is safe to use.
Uses:
Remove mineral deposits
Remove cementitious deposits from glass, hard surfaces
Remove hard water stains
Descaling
Removes soap scum from shower screens
Benefits:
Easy application
Rinse off with water
Assists against Calcium build up
Economical
Proudly Australian Made
Point of Difference:
Directions:
Shower screens use neat
Leave on for 5-10 minutes and wash off with water
Dilution Ratios:
1:25 Normal mineral deposits
1:10 Heavy mineral deposits
Shelf Life:
Indefinite when stored in a cool, dry, well ventilated location away from direct sunlight.
Packaging:
5 litres
10 litres
20 litres
205 litres
1000 litres
Envirosafe Rating
For more information on our ratings systems – click on the images below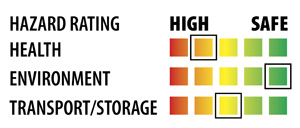 About Us:
Proudly 100% Australian Owned & Operated
Sustainably powered premises