Description
Extreme Green Electrical Insulator Cleaner has been created to satisfy the needs of the power generation industry, whist ensuring Environmental responsibility.This is the alternative to all the old products containing harsh solvents.
Electrical Insulator Cleaner is biodegradable and a highly effective, water based cleaner.
Extreme Green Electrical Insulator Cleaner is an environmentally responsible, alternative to the old harsh solvent based products, it is an alkaline, highly active all purpose cleaner and degreaser for use on Gloves & blankets, EWP booms & buckets, Sticks & tools, and as a general cleaner & degreaser.
Uses:
Ideal on pole tops, high voltage electrical connectors
All heavily soiled hard surfaces.
Gloves & blankets, EWP booms & buckets, sticks & tools
Benefits:
Environmentally responsible
No petro solvents or harsh acids
Non-toxic
Economical
Concentrated
Effective in a wide range of applications
Point of Difference:
Contains no harsh acids
Contains no Petro-Solvents
Directions:
Apply neat via an industrial spray bottle and wipe with an applicable hand cloth or other appropriate material.
With heavily soiled areas, the use of a pressure washer to remove deposits and residue may be appropriate. If first application does not remove all deposits, re-apply and follow instructions again.
CAUTION: Follow all safety/OHS instructions for the use of liquids around and on electrical devices.
Shelf Life:
Minimum of 24 months. Indefinite when stored in a cool, dry, well ventilated location away from direct sunlight.
Packaging:
5 litres
10 litres
20 litres
205 litres
1000 litres
Envirosafe Rating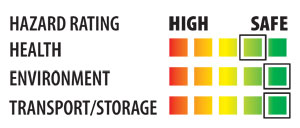 About Us:
Proudly 100% Australian Owned & Operated
Sustainably powered premises