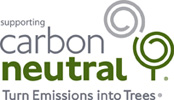 As a green business that promotes sustainable industry, at Envirosafe Solutions we are 100% committed to reducing our own environmental impact. We believe we must lead by example.
We recycle all of our office and warehouse waste to the fullest extent possible, and use only certified green power to meet our electricity requirements.
We use our own Envirosafe Solutions products in the day to day maintenance of our facilities – because we know that they are safe, green and highly effective.
We donate 2% of all sales to
Carbon Neutral
, an Australian not-for-profit organisation that works to reduce carbon emissions through tree planting and education programs. Staffed largely by volunteers, Carbon Neutral is helping to safeguard our planet for future generations.
Envirosafe Solutions is proud to be associated with local environmental groups. We are working in partnership with Carbon Neutral to build a green future for Australian industry.