Description
Extreme Green Rubber Remover is a product that was designed to meet a clients requirements to remove rubber build up from concrete warehouse/factory floors. Rubber build up can occur from forklifts, walker stackers, trolleys etc., and can present a OHS safety hazard if left uncleaned.
Uses:
Extreme Green Rubber Remover is designed to remove rubber tyre marks
Concrete and other flooring
Walls
Any area that requires rubber to be removed
Benefits:
Very concentrated so only a small amount required
Easy to clean off
Biodegradable
Low Odour
Works on a wide range of surfaces
Point of Difference:
Works Quickly
Can be Hosed off
Directions:
Apply directly on to surface via atomiser, agitate with broom or similar and leave for 5 minutes before cleaning with a scrubber machine or mop and bucket
Rinse with clean fresh water
Shelf Life:
Indefinite when stored in a cool, dry, well ventilated location away from direct sunlight.
Packaging:
5 litres
10 litres
20 litres
205 litres
1000 litres
Envirosafe Rating
For more information on our ratings systems – click on the images below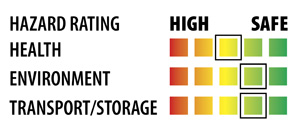 About Us:
Proudly 100% Australian Owned & Operated
Sustainably powered premises