Description
Extreme GreenDisinfectant is a commercial grade eucalyptus based disinfectant. Very effective at killing germs and pathogens, this product is a must have in virtually all situations from offices, bathrooms, toilets, food prep areas in fact anywhere where there are humans or animals.
Envirosafe Solutions supplies industry with environmentally friendly products that are effective, cost competitive and easy-to-use. Envirosafe also places great importance on providing quality customer service and prompt delivery.
Uses:
Extreme GreenDisinfectant is a commercial grade disinfectant for use in:
Toilets
Showers
Office Areas
Sporting clubs
Refuse areas
Any areas where odours present a problem
Benefits:
Fast acting
Free rinsing
Suitable for use in hot or cold water
Pleasant long-lasting fragrance
Economical in use
Fully biodegradable
Efficient in all water types and hardness
Point of Difference:
Extreme Green Disinfectant is environmentally responsible and safe for use in septic tanks.
Directions:
General disinfecting:dilute Eucalyptus Disinfectant at 1:30 with water.
Heavy duty cleaning: dilute Eucalyptus Disinfectant at 1:20 with water for areas suchas refuse compounds rubbish bins.
Eucalyptus Disinfectantmay be applied using a spray, mop and bucket, scrubber or broom.
Shelf Life:
Indefinite when stored in a cool, dry, well ventilated location away from direct sunlight.
Packaging:
5 litres
10 litres
20 litres
205 litres
1000 litres
Envirosafe Rating
For more information on our ratings systems – click on the images below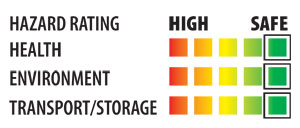 Septic/Greywater Rating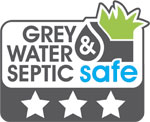 About Us:
Proudly 100% Australian Owned & Operated
Sustainably powered premises
2% of all sales donated to Carbon Neutral to offset greenhouse gas emissions*(See our Carbon Footprint Policy Here)