Description
Extreme Green Porta-Loo Treatment is a new blend of environmentally friendly waste-breakdown product. It is designed for use in portable, long drop and septic system toilets.
Extreme Green Porta-Loo Treatment is a fully biodegradable product that can be emptied into a caravan's waste system, enviro-cycle type systems as well as deep sewerage without any negative impact on the environment.
Uses:
Portable toilets including cassette style and long drop systems
Waste tanks on boats
Cassette toilets in motor homes and caravans
Benefits:
Environmentally safe
Can be used for any toilet
Perfumed
Economical – only 25 ml required per five to seven days
Point of Difference:
Formaldehyde free
Clean smell
Easy to measure
Helps to keep the holding tank clean
Directions:
Pour 25 ml into holding tank with 250 ml of water
If you want to put into top tank only 10 ml is required
Shelf Life:
Indefinite when stored in a cool, dry, well ventilated location away from direct sunlight.
Packaging:
5 litres
10 litres
20 litres
205 litres
1000 litres
Envirosafe Rating
For more information on our ratings systems – click on the images below
Septic/Greywater Rating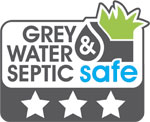 About Us:
Proudly 100% Australian Owned & Operated
Sustainably powered premises