Description
LIMITED STOCK OF 150ml PUMP BOTTLE AND 1 Litre  REFILL (PACK) AVAILABLE
Extreme Green Hand Sanitiser is an Alcohol-Free quaternary based hand sanitiser for use on hands to protect against infectious bacteria, germs, pathogens and enveloped viruses.
This is an ideal product when soap and water are not readily available and alleviates the need for paper towels. Unlike alcohol-based sanitisers, Extreme Green Hand Sanitiser does not dry out the skin causing cracking.
The quaternary base in the product stays active for several hours after application, far longer than alcohol-based products can.
Soap and water are still considered by experts to be the best defence against the COVID-19 but there are many times when these aren't available so the next best thing is a hand sanitiser to ensure protection as best you can.
Uses:
Extreme Green Hand Sanitiser is ideal for daily use.
Benefits:
Extreme Green Hand Sanitiser is Alcohol-Free, thus non-flammable and safe around work sites.
Extreme Green Hand Sanitiser is fragrance free so can be used in food preparation areas.
Quaternary based sanitisers are more economical than alcohol-based products and so are ideal in high usage areas.
Point of Difference:
Extreme Green Hand Sanitiser contains no alcohol, which keeps the skin moist and supple, guarding against dermatitis.
Directions:
Apply 1-2 pumps of Extreme Green Hand Sanitiser to hands while still dry, massage together for thirty seconds or so to ensure proper coverage.
Shelf Life:
Indefinite when stored in a cool, dry, well ventilated location away from direct sunlight.
Packaging:
5 litres
10 litres
20 litres
205 litres
1000 litres
Envirosafe Rating
For more information on our ratings systems – click on the images below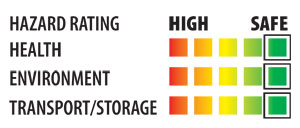 About Us:
Proudly 100% Australian Owned & Operated
Sustainably powered premises