Description
Emergency preparedness is crucial with today's stringent environmental and safety regulations. A quick response to oil, chemical, hazardous waste or biological spills can save an organisation thousands of dollars in fines. Using the correct spill containment products is equally as important, and having staff adequately trained in the use of equipment and safety procedures is mandatory.
SpillZORBE/Zeolite is a clean, fast acting, environmentally safe absorbent that will assist you meeting your safety requirements.
Oil and petroleum spills are always a potential environmental problem due to their ability to leach into soils and waterways. Responsible industry should demonstrate effective spill management using absorbents that are efficient and do not leach once placed into landfill.
SpillFix Natural Zeolite Floor Sweep Absorbent is tested to USEPA standards for free liquid and leachate for hydrocarbons (C10 – C36) and can be used for a wide range of liquid spills.
Uses:
Use anywhere around the workshop/office/home/warehouse/garage/kitchen/driveway
Oils-All inc: Engine/Hydraulic/Transmission
Fuels-All inc: Diesel/Petrol/Kerosene
Coolants/Grease/Cooking Oils & Fats
Mild Acids and Alkalis
Paint/Inks/Dyes
Bitumen/Chemical Spills
Pet Litter/Soil Wetting Additive
Various Other Organic Toxins.
Benefits:
All natural heat sterilised mineral – contains no chemicals
Exceeds EPA landfill tests
Absorbs immediately on contact
Absorbs liquids, gases and odours
High cation exchange capacity
Natural bonding action of Zeolite makes it far more active in the adsorption and absorption process ("adsorption" refers to the locking onto or retention of ions or molecules of a gas or liquid on the surface of a different substance).
Particle size gradation designed to maximise surface area
Super absorption capacity
Maintains strength integrity when fully absorbed
Reduces slippage and makes clean-up easy
De-dusted to reduce surface bogging and improves handling
Strong wicking action to pull spills from the surface
Zeolite is a one stop universal absorbent which will absorb almost any liquid, such as Oils, Diesel, Petrol, Hydraulic Fluid, Paint, Ink, Dairy and many more
Point of Difference:
Worksafe compliant
All natural heat sterilised mineral – contains no chemicals
Absorbs immediately on contact
Absorbs liquids, gases and odours
Zeolite can be used to clean liquid spills such as oils, fuels, mild acids and alkalis, and various other organic toxins.
Gases such as formaldehyde and hydrogen sulphide have been shown to be absorbed by Zeolite.
Zeolite has been tested to TCLP and Paint Filter Standards
Meets & exceeds EPA landfill disposal requirements.
Directions:
Spread the Zeolite around the perimeter of the spill to contain the spill. Then work the Zeolite in from the edges towards the centre of the spill until no free liquid is visible.
Dispose of the Zeolite and contained liquid in accordance with local, state and federal authorities.
Zeolite is biodegradable but should be swept up immediately and disposed of correctly and responsibly.
Shelf Life:
Packaging:
Envirosafe Rating: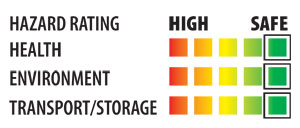 About Us:
Proudly 100% Australian Owned & Operated
Sustainably powered premises
2% of all sales donated to Carbon Neutral to offset greenhouse gas emissions*(See our Carbon Footprint Policy Here)