Description
Hands First is an Antibacterial, Alcohol-Free Instant Hand Sanitiser. It is a quick, efficient and easy way to sanitise hands without the need for soap, water or towel. Simply apply one pump to your hands and rub together until dry (10 seconds).
Laboratory proven to kill 99.99% of germs
Contains no Alcohol
Fragrance Free
Non-Flammable, Non-Toxic
Contains Aloe Vera
Last more than twice as long as an Alcohol based gel
Unique foaming dispenser
Child friendly – used extensively in schools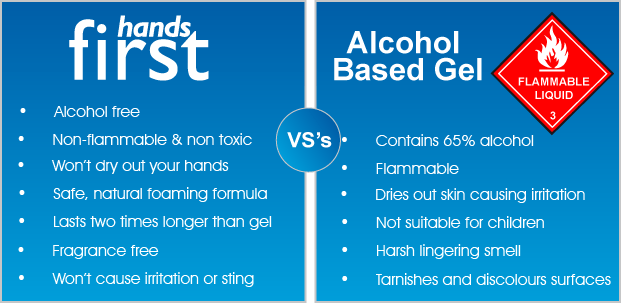 Hand Hygiene is commonly recognized as the single most important way of preventing the spread of germs, bacteria and sickness. Washing hands thoroughly with soap and water is the most common way to sanitise hands, however soap and water are not always readily available and can also be very time consuming.
Hands First is Laboratory proven to kill 99.99% of germs.
Hands First is an Antibacterial, Alcohol free Waterless Hand Sanitiser. It is a quick, efficient and easy way to sanitise hands without the need for soap, water or towel. Simply apply one pump to hands and rub together until dry. (10 secs ).
Hands First is fragrance free, so it leaves no smell on your hands and is suitable for the most sensitive skin, some people are sensitive to certain scents or just don't like them, also when using Hands First before eating there is no scent interfering with your food. It also contains moisturising Aloe-Vera and is guaranteed to not dry out your skin like Alcohol based Sanitisers can.
Hands First uses a unique foaming pump which delivers an easy to use metered amount that also makes it last more than 2 times longer than a gel sanitizer of the same volume such as Dettol, Purell and Aqium.
Hands First can be used as often as you like with none of the side effects that are associated with regular use of an Alcohol based sanitiser, ie. skin irritation. It has been designed with the Food Industry in mind where sanitising is required up to 40 times a day.
Hands First is very child friendly – because this product is so safe, it makes it extremely useful for use on and around children no matter their age.
These are great reasons why you should make the change from your current hand cleaner to Hands First Alcohol free Hand Sanitiser.
Ingredients
We know the importance of using the safest ingredients. Hands First uses the Antibacterial agent Benzalkonium Chloride which has been used by Doctors and in the Food Industry to safely sanitise for over 30 years.
Hands First formulation contains natural ingredients like Grapefruit Seed Extract and Aloe-Vera. It is a safe and effective formulation that contains no artificial fragrances, dyes, toxic fillers or Formaldehyde releasing ingredients.
Benzalkonium Chloride
Is a Quaternary Ammonium Compound, otherwise known as a Quat. It is one of the safest Biocides known and has a long history of efficacious use. It has long been deemed safe for human use and is widely used in eyewashes, hand and face washes, mouthwashes, spermicidal creams and in various other cleaners, sanitisers and disinfectants. Benzalkonium Chloride has residual Antibacterial qualities continuing to kill germs for up to 4 hours after being used.
Grapefruit Seed Extract
Is a benign yet extremely potent and effective alternative to the toxic and environmentally harmful chemicals used in a diverse spectrum of consumer products. It protects finished products from bacterial and fungal attack. It is a natural antibacterial, anti fungal, non-toxic, non-metallic, organic compound which can be used as an effective preservative in cosmetics. Grapefruit Seed Extract is classified as non-toxic by oral ingestion and is not a primary skin irritant or a corrosive material, It is not only a safe and non-toxic alternative, but is often markedly more effective than typically used synthetic product's.
Aloe-Vera
The Aloe Vera plant has been known and used for centuries for its health, beauty, medicinal, and skin care properties. The properties of Aloe Vera gel applied externally or taken internally, have been described in numerous scientific journals and reveal that Aloe Vera contains more than 70 essential ingredients including most vitamins, minerals, enzymes, protein and amino acid's.
Hands First 800ml Wall Mounted Dispenser provides over 1600 applications and can be neatly situated somewhere where staff will be able to quickly sanitise hands when required. We can also provide signs and stickers reminding staff to use it and showing that your business cares about their health and wellbeing.
200ml, Counter top. 360+ applications.
50ml, Carry anywhere. 120+ applications.
2 Litre Sanitiser Refill. 4,000+ applications. You will need to purchase this to fill up the Foaming Wall Dispenser.
You can also refill your 50ml and 200ml Foaming bottles- Saving money and the Environment.
Envirosafe Rating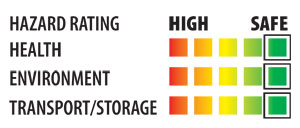 About Us:
Proudly 100% Australian Owned & Operated

Sustainably powered premises

2% of all sales donated to Carbon Neutral to offset greenhouse gas emissions

*

(See Carbon Footprint Policy)