Description
95HFMRA – 2 Litre Foam Gun w/multi-ratio dial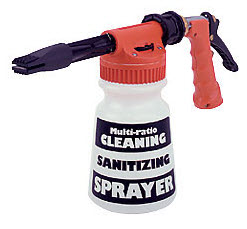 Features:
Exceptional chemical resistance to acidic or caustic cleaners
Accurately mixes and sprays foaming chemicals
Foam generating wand creates a thick, clinging foam
If foaming application is not desired, the included fan-spray-deflector can be used to apply disinfectants, etc.
Durable polymer mixing head with stainless steel screws
Quick-set dial selects mixing ratio or mixing off setting
Anti-siphon built into handle
Bottle detaches from the trigger handle to enable a powerful water-only spray rinse
Easy to fill wide mouth, chemical resistant polyethylene bottle
Applications:
For cleaning, degreasing or disinfecting when a foam is desired to increase surface contact time
Supermarkets, packing houses & meat cutting rooms and equipment
Food handling and preparation areas
Institutional, industrial or public restrooms, shower rooms, and locker rooms
Animal cages, stalls
Dairy equipment
Trucks, cars and other equipment
Products to use with:
Extreme Green GelClean Sanitiser
Operational Specifications:
Water Pressure: – 40 to 90 psi (for maximum accuracy 40 to 60 psi)
Output: – 6 Litres per minute.
Spray Pattern: – Foaming attachment provides a fan spray, removes for a solid stream. Deflector attachment for non foaming fan spray patterns. Optional longer distance foam wand available.
Anti-Siphon: – Protects water supply. (Note: a slight discharge of water from base of handle when water is turned off is normal and indicates anti-siphon is functioning properly.)
Standard Single Ratio: – 40 ml.of a water weight chemical per Litre of solution sprayed.
Customized Ratios: – Can be set from 1/4 oz. per gallon to 14 oz. per gallon (8ml to 100ml per litre). (Note: this range is affected by the viscosity of the chemical.)
Caution: Additional attachments or alteration of container or siphon tube are not recommended as it may interfere with proper operation of this unit.
Multi-Ratio Dial has 5 Mixing Settings and Off
A
B
C
D
E
O
1-128
1-64
1-32
1-20
1-10
OFF
1 oz./gal.
2 oz./gal.
4 oz./gal.
6 oz./gal.
12 oz./gal.
8ml./L.
16ml./L.
31ml./L.
50ml./L.
100ml./L.

Cleaning, degreasing or disinfecting when a foam is desired to increase surface contact time.